Wouldn't it be great to have accurate, as-built information at the start of a new construction project or renovation? Good news, you can. And, it is much easier than you think.

Over the past few years, the AEC industry has adopted many new construction technologies. Especially now, with COVID-19 safety guidelines, teams need better ways to work remotely while maintaining efficiency. No doubt, this has led to an even greater dependence on technology at both at the office and at the job site.
A growing area in the new digital construction workflow is laser scanning. You may have heard of this by other names such as LiDAR (Light Detection and Ranging) or high definition surveying (HDS).
Regardless of what it is called, laser scanning is basically a process of capturing and mapping current reality using laser beams to quickly capture details of entire buildings or sites, much like a camera taking a panoramic photo but with the accuracy of measuring distance with every pixel.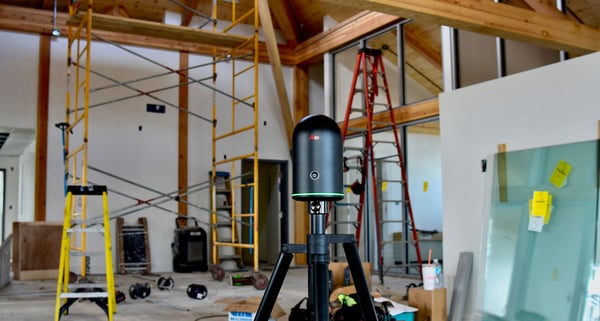 [ Learn more about the Leica BLK360 laser scanner ]
Here is how it works; a terrestrial 3D scanner is a rotating device that is set on a tripod. Once activated, it shoots a 360-degree image consisting of hundreds of thousands of different data points to create a point cloud. This is a large set of data points represented in a coordinate system, containing X, Y, and Z coordinates and can also contain RGB values for each individual point.
The resulting point cloud image is full of vector data which can be very accurately modeled and measured, sometimes with up to .0005 inches of the exact value.
Construction applications
It is rumored that 80% of all the building and structures in the world do not exist in a BIM environment. They were either designed in 2D CAD or worse yet, hand drawn.
To bring these types of projects in a BIM environment, the traditional method of collecting data is to send a team, on site, to take manual measurements, then recreate a brand-new BIM model. This requires a ton of work and is massively inefficient.
An advantage of laser scanning is that you can capture the conditions of the project exactly as it exists today. A single person can now visit a job site set up a scanner scan various data points and bring those together to create a new BIM model.
Besides planning, 3D scanning can be used throughout the entire construction project to capture every phase of construction. This helps create a record of everything throughout the entire lifecycle of the building project.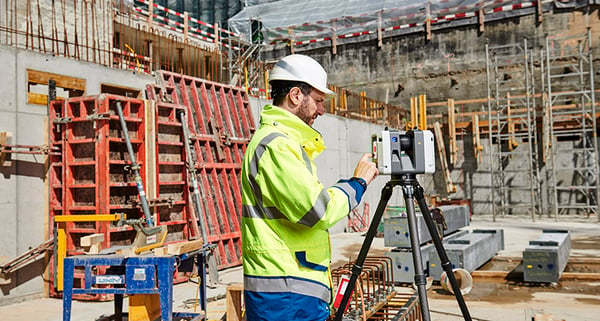 Benefits for contractors
On a typical construction project, rework is a common occurrence that happens on a regular basis. This has enormous financial impacts to companies involved. In fact, rework can account for up to 15% of the cost of construction.
Using laser scanning you can identify conflicts early in the process, before they happen, and reduce the level of rework by several percentage points.
This reduction of rework can translate into hundreds of thousands of dollars in savings and keeps the project on schedule.
Laser scanning helps contractors mitigate risk as well by ensuring as built drawings are accurate and expose any inaccuracies early in the process before they turn into change orders during construction.
Moreover, the benefits of laser scanning extend way past the coordination and planning of the reconstruction. Scans taken progressively throughout the entire build cycle can be compared with as-designed models and drawings. This activity provides records that offer an incredible value to both project partners and building owners.

When to use reality capture
While laser scanning 3d cameras are often used for renovations, scanning is also advantageous to the BIM process related to new construction. For example, scanning all components, as they are installed, can provide a time-lapse record with incredible accuracy of pipes, HVAC, structural steel, floors, and a lot more.
Once collected, this information can be compared to the original design to verify that all components are installed in the correct place. If any errors are discovered, the design can be revised so the new components can be altered in fabrication, prior to installation, preventing expensive changes on site.
Laser scanning can also be used to quickly check concrete slab flatness of concrete floors. This is referred to as floor flattening or floor leveling (FF/FL). Having this oversight allows companies to easily calculate the boundaries of any areas that need to be adjusted and quickly to determine the volume of material needed or if adjustments need to be made to the concrete pour.
Renovations
When working with renovations or additions to an existing structure, CAD drawings can often be out of date or simply do not exist at all. Missing or out-of-date building plans can make designing any type of renovation much more difficult.
By using a laser scanner, users can simply capture the reality of volumetric spaces and essentially freeze that image data in time by way of a LiDAR point cloud image.
Once various 3D point clouds are captured, they are connected through a process called Registration. After they are registered, a deliverable file can be created and brought into CAD and BIM packages to develop extremely accurate drawings of existing conditions.
Even after these existing condition drawings are created reality capture continues to add value by documenting construction milestones along the way and providing quality assurance and quality control as the project progresses.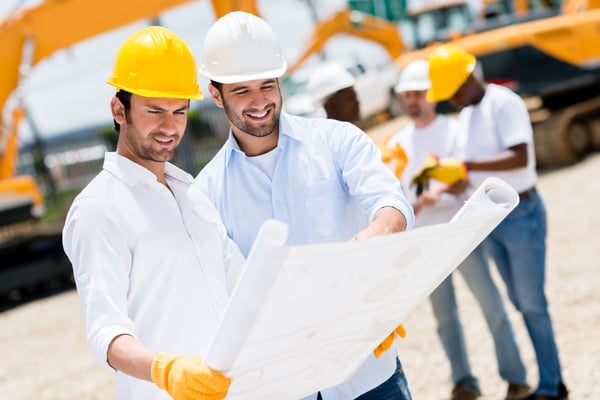 "It is rumored that 80% of all the buildings and structures in the world do not exist in a BIM environment. They were either designed in 2D CAD or worse yet, hand drawn."

 
3 levels of needs for laser scanning
To get the most from 3D scanning, you first need to know how laser scanning will be applied as to your workflow. There are three different levels of needs to consider.
Basic
The simplest and most straightforward way to benefit from using a laser scanner is to check construction progress against the original design. Importing dense scan images into a CAD or BIM environment makes problem areas easy to identity. If any issues are found from the scan data, that information can be sent to the design team so they can make revisions. So, the adjustments are made, the less time and money is wasted.
Intermediate
Data from laser scanning can also be used to inspect a specific aspect of a construction job so the corrective actions can be taken if needed. One example is evaluating the flatness of a concrete floor. Point clouds can be colored based on elevation to reveal any high or low areas in the pour. The extent boundaries can be established, and discrete points can be derived to be uploaded to a total station, to be staked out in the field.
Advanced
For Renovations or other construction projects that lack accurate existing conditions or documentation, laser scan data can be converted into models that provide the missing information.
Laser scanning data tends to be so complete that it is possible to have details all the way down to the Bolt patterns on steel pipe fittings. Software libraries of actual sizes of steel and or pipes can be identified and modeled directly from the point cloud.
Compiled data of shapes or group models can be made and used throughout the site. Point clouds can also be used to create paths, including clearances, to remove large equipment from the site once construction is complete.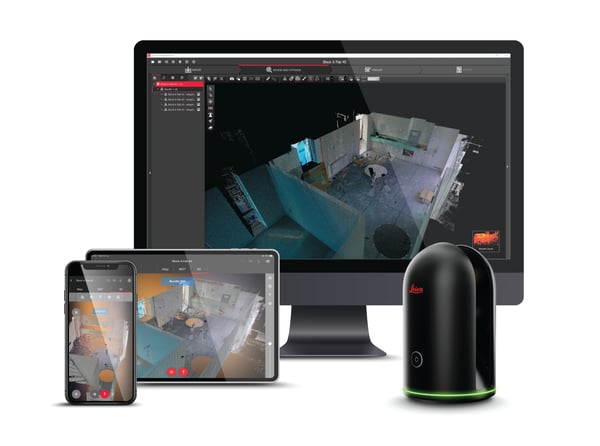 Conclusion
3D Laser scanning is becoming more commonplace and affordable throughout all levels of construction. It is a very powerful tool that can save thousands of dollars by minimizing change orders and rework. Incorporating 3D scanned point clouds into your workflow keeps your projects on schedule and provides valuable information for all stakeholders.
It is a technology that can be used throughout the lifecycle of the project, including documenting as-built conditions, floor flatness, structural steel conditions, and a wide range of other technical data. Companies that tap into LiDAR scanning will certainly have advantages over the ones who resist.
How has using laser scanning in construction benefited your project workflow?
TAVCO's Reality Capture Options from Leica Geosystems
Other helpful 3D scanning links:
Reality Capture - 3D Scanner Main Page
AEC Tools for Working Remotely
Leica BLK3D Imager and Laser Measurer
Perform Reality Capture on Leica BLK3D Imager
How to Sketch Floor Plans with Leica BLK3D Handheld Imager
Content sources:
constructionrealityxyz.com - guide
This article was originally published on our parent site:
https://www.tavco.net/wide-format-plotter-scanner-blog/using-laser-scanning-in-construction