Swiss-based imaging manufacturer, Leica, recently introduced the first smartphone-sized device that allows users to instantly get measurable 3D data just be snapping a picture. Contractors are ecstatic about the new Leica BLK3D Imager.
This tool is perfect for skilled construction trades that need fast and accurate measurements, but not necessarily full models. It takes immediate and precise 3D measurements from any 2D image it captures.
This new digital platform replaces manual measurements and documentation processes that formerly relied on tape measures, distance meters, photos, and written notes.
It is incredibly easy to operate, so architects, builders, site managers, civil engineers, window fitters and others can all use the device with very little training.
In this first of a multi-part series about the mobile capabilities of the Leica BLK3D, learn how to capture reality so you can quickly and easily take measurements.
How does the BLK3D work?
Stereophotogrammetry - Simply put, Photogrammetry is defined as the science of making measurements from photographs. But, the secret sauce of the BLK3D is the fact that it gathers its photogrammetry information through two on board calibrated stereo-cameras, taking either single or multiple photos. 
These imaging sensors take simultaneous images of the same scene from two different positions. This is similar to the left and right eye in human 3D stereo vision.
The combination of the stereo images with Electronic Distance Measurement (EDM) technology, advanced algorithms, and real-time edge computing automates the complex processing and therefore simplifies the whole process and makes it real-time.

Details of the integrated stereo cameras on the BLK3D:
Two 10 MP digital cameras
15.8 cm diagonal camera base line
80° field of view per camera
Understanding BLK3D terminology
Before diving into the instructions of how to use the BLK3D mobile reality capture, first some terminology needs to be explained and understood.
Reality Capture: The process of photo capture itself by using the BLK3D.
Single-shot: Capture of a single stereo photo.
Multi-shot: Capture of multiple stereo photos of the same scene from slightly different positions.
3D Image: The result of Reality Capture (one or multiple stereo photos of an object).
Baseline: Maximum distance between the cameras during Reality Capture. This distance can be increased by using multi-shot from slightly different positions.
Accuracy Considerations
In order to get the best results from the Imager, it is important to know several factors that can influence the accuracy of measurements: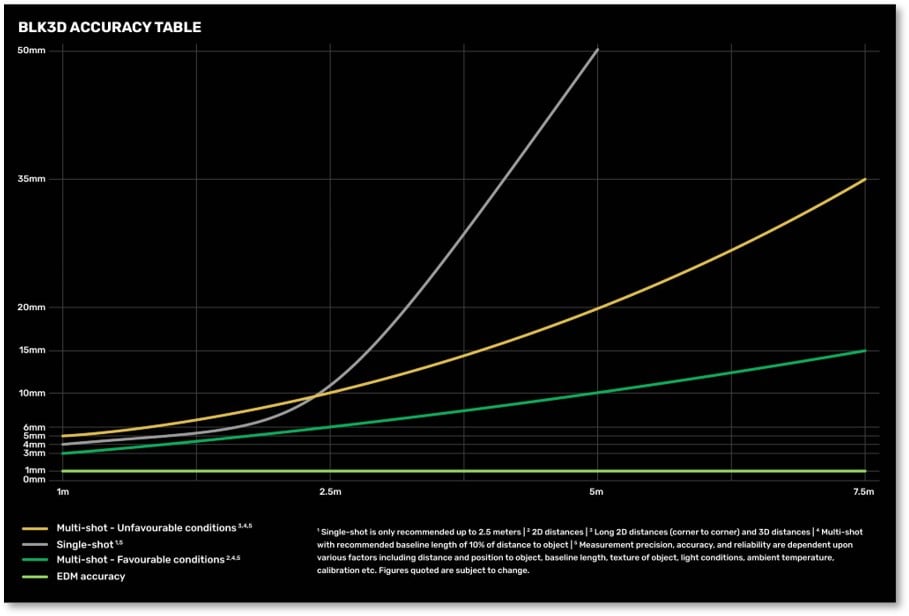 Angle of intersection
Every camera looks at a point from a different position. The intersection angle is given by the two lines of sight from the two cameras.
The picture shows that the accuracy is better if the angle "α" of intersection is bigger. The angle "α" is affected by distance to the object "D".
Baseline length "B" (distance between cameras). Ultimately, a bigger angle of intersection "α" equals better results.
Distance from the object being measured
As shown the previous picture, a photo taken from a shorter distance to the object to increases the overall accuracy. So, do your best to take pictures from the shortest distance possible while keeping the image correctly in frame.
Accuracy - Single shot vs Multi-shot
For simple images of objects at short range, one single image can provide you enough data for linear and area measurements. But, as the range of your shot increases, additional images become necessary. 
Often you are prompted to take up to 2 multiple shots from slightly different positions to increase the length of the baseline. Just remember that the object you want to measure needs to be visible in all pictures!
The Middle 50% of the frame
Measuring an object from "Edge-to-edge" can result in a reduced accuracy. It is best to move away from the target, so that will be positioned in the middle 50% of the photo. 
Final Notes on Accuracy
Capture and measure with multi-shot images.(take a second 3D image). With multi-shot, use a baseline of 10% the distance from the target.
In case of large areas to measure, break them down to smaller areas. Do your best to capture subjects in the middle 50% of the screen.
Ensure your device is stable: use a tripod, monopod or the built-in timer function
Ensure proper lighting conditions: use LED lamp or integrated flash to enhance lighting when needed.
BLK3D Reality Capture Tutorial
Once the Imager is powered on, open the the BLK3D reality capture software application. All capture functions are initiated and managed through this App.

Select Reality Capture from the home screen.

The Reality Capture live view shows the left picture in the main screen and the right picture in the top right corner. Ensure that the objects are visible in both pictures, otherwise they cannot be measured.
Be careful - watch out your finger! One of the stereo cameras can easily be obstructed by an unwanted finger wrapping around the unit and blocking the shot.
Once the subject of your picture is in frame, you can tap the screen to adjust the "auto exposure" or manually change the exposure slider to correctly light the photo. 
Note: Panorama pictures will not work in multi-shot The 2nd shot needs to have the same content
Use Flash or Timer if its needed or simply tap on "Photo" to capture a single-shot. Likewise, there is also a camera button located on the side of the unit, if you would rather snap shots that way.
Grey Mask Area
The grey mask adapts to the scene and informs you where measurements will not be possible. This shows area in which measurements are not possible (no overlap of both pictures).
Multi-shot arrows
In the image above, arrows pointing either left or right show recommended distance B (base line) between the first and second shot for best accuracy.
The recommended baseline is shown when aiming to a target at distances over 2 meters. (Note: default measurements can be set for imperial measurements in feet and inches) .
Reality Capture Tools
Once you have taken pictures, you can easily modify them with various tools to enhance your workflow.
Add Text and Markers
Add Tags to better organise your data
Draw line and add Laser measurement to the photo
Automatic Edge detection will automatically draw visible lines on the 3D Image
Adjust Brightness manually after capturing
Automatic Edge Detection
Built-in software automatically detects and measures the most prominent edges present in a shot. Access the Edge Detection function in the Tools menu. This saves time by not having to determine reality capture control points or measure distances manually. 
Edge Detection Errors
Two solutions at different distances recognized by system
Left picture: Solution on the background
Right picture: Solution on the foreground
BLK3D Summary
Get more info on Leica BLK3D bundled packages
The BLK3D Imager from Leica is an incredible handheld device that allows you to take a picture and measure anything in the image. You can easily store, organize, and share your images and measurements with other project partners or customers. It is a great tool for RFIs and documenting construction site progress.
Professionals can now make faster decisions within their daily workflows – whether measuring inaccessible locations, creating floor plans, estimating building installations, documenting construction site progress or creating measurable, as-built documentation.
Related Articles
Part 2: How to Laser Measure with a Leica BLK3D
Part 3: How to Sketch Floorplans with a Leica BLK3D
What Other Software Do I Need for a BLK3D Imager
Visit the TAVCO Reality Capture Page
About Leica Geosystems
Leica Geosystems, based in eastern Switzerland, produces products and systems for surveying and geographical measurement (geomatics). Its products employ a variety of technologies including GPS satellite navigation and laser rangefinders to enable users to model existing structures, terrains in computer based systems to high accuracies.
Other helpful 3D scanning links:
Reality Capture - 3D Scanner Main Page
AEC Tools for Working Remotely
Leica BLK3D Imager and Laser Measurer
How to Sketch Floor Plans with Leica BLK3D Handheld Imager