Canon updated updated their professional large format photo printer series. The new models are the Canon PRO 2100 (24-inch), PRO 4100 (44-inch), and the PRO 6100 (61-inch) printers.
Some of the new enhancements include faster print speeds, enhanced security, larger LCD user panel, transparent covers, and intelligent media loading.
Though it might not seem like much, these changes are significant.
Intelligent Media Loading & Handling
Loading and managing paper and other media has never been easier. Simply place a loaded spindle into the machine and the PRO plotter will do the rest. For the first time, and imagePRGRAF inkjet printer can load and recognize paper without any further interaction.
The built-in sensor measures surface reflection and the media thickness to identify the media type.
Plus, the PRO printer uses machine learning, so the ink printer learns your media preferences and remembers them – always adjusting for any changes.
Remaining Media Estimations
In previous models, this was done by printing a bar code that the printer could read and apply the stats to the internal settings. But the new photo printers automatically calculate how much paper is left on the loaded roll.
This is done through a series of sensors and calculations that measure paper thickness, feed length, remaining paper diameter, and the paper tube diameter. In other words, it is an automatic, real-time estimate of the remaining paper loaded.
The data is easily read on the systems display panel or via the Status Monitor application on your computer.
More Reasons Why the Canon PRO-Series Printers Continue to Exceed Your Expectations
The PRO Series Links Directly to a CANON EOS Camera
Photographers and digital professionals of all types are rejoicing over the fact that you can know directly link a digital camera directly to the PRO 2100, 4100, and 6100 printers.
This new process is called Crystal-Fidelity and it ensures that the original structure, clarity, and texture of the original photos are maintained and printed with the highest level of accuracy and efficiency.
Currently, Canon is the only company offering this functionality. Neither Epson nor HP can link directly with a digital camera.
Lucia PRO 11-Color Pigments Inks PLUS Chroma Optimizer
The LUCIA PRO 11-color ink system features and all new ink formulation with increased pigment density for richer color expression.
Plus, the Chroma Optimizer works to further enhance the quality and ensure uniformity of light reflection.
This unique ink system help enable a broad color gamut with finer details in dark areas and improved gloss uniformity. Bronzing and graininess are also greatly reduced with the new LUCIA PRO ink set.
No Switching of Black Inks
Unlike other competing printers, the PRO Series does not require manual switching between Matte Black and Photo Black inks. These two blacks have their own dedicated print nozzles on the Canon printer.
So, draining and switching the inks is not needed. This saves you a considerable amount of both time and ink – saving you money.
The All-New PRO Print Head
Canon's new PF-10 print head is a re-engineered marvel. This 1.28-inch-wide print head boasts 18,432 nozzles, 27 temperature sensors, and a non-firing nozzle direction system to help ensure control and precision for the highest level of print quality.
Also, clogged nozzles are a non-issue. This is because on detection of a clog, the sensors stop use on the malfunctioning nozzle and use another one to compensate for it.
This helps reduce ink waste and the need to activate self-cleaning mode. To reduce the occurrence of clogs altogether, then sensors are temperature controlled so that the ink is maintained at the proper viscosity for optimal and consistent ink droplet placement.
Built-in Color Density Sensor and Color Calibration System
Color output is optimized by Canon's built-in Color Density Sensor and calibration system. This capability is extremely important to professional photographers and graphic artists because it means that these printers can reproduce colors reliably and consistently, over time.
Canon's Color-Calibration System is simpler and easier to use than competing systems.
With Canon's Color Density Sensor, a calibration for one media type is used to adjust on the other Canon supported media—unlike Epson and HP, who require the need for a spectrophotometer, and repeat calibrations for each type of media or print mode.
Plus, color calibration on the Canon is fast---it can be done in just 10 minutes.
Innovative and Dynamic Media Handling
Canon's refined media loading system enables a roll of media to be loaded into the printer without directly touching the media with your hands. This is extremely useful for glossy papers that are prone to show fingerprints and smudges.
Simply set the media in the roll holder and lightly rotate the flange to initiate the leading edge of the media to be automatically fed into the assembly.
Additionally, the optional Multi-Function Roll (MFR) System can also be used as either a second media rolls or it can be configured as a bi-directional take-up unit.
Versatile Connectivity Options Out of the Box
Today's art studios and design shops need various ways to share data and connect to peripheral devices. So, the Canon PRO Series offers a generous variety of connectivity options including:
Wi-Fi enabled
GB Network ready
Print direct from a USB flash drive
Canon's Direct Print and Share solution
USB 2.0 High-speed port
This combination of connection options greatly simplifies installation and increases the degree of operational freedom.
Fleet-Wide Printer Management
Canon offers the ability to control color calibration and printer management for an entire fleet of imagePROGRAF printers in an Enterprise environment.
Device Management Console (DMC) enables users to monitor, control, and calibrate printers from one location.
Canon-Fleet-Wide-Printer-Management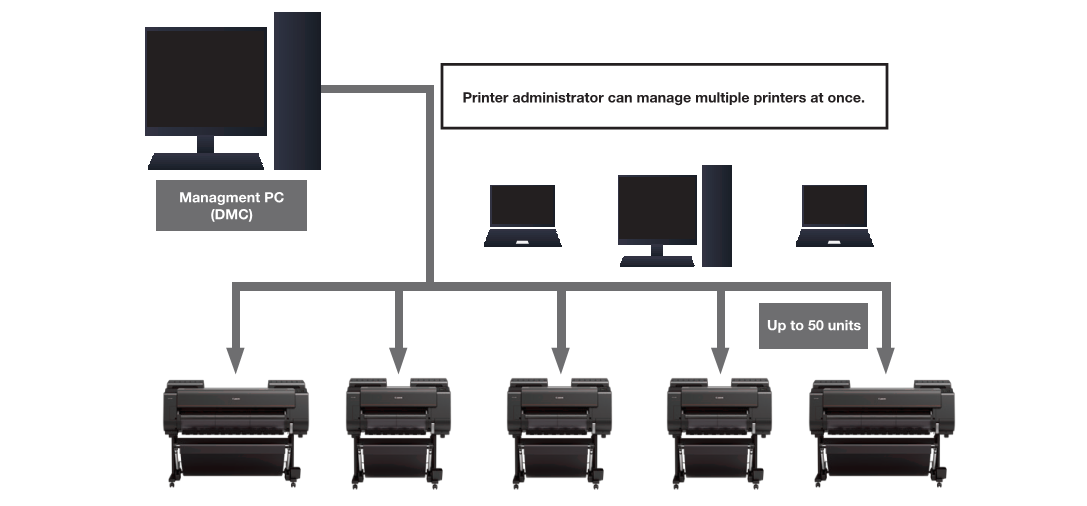 Software and Workflow Solutions Included
Every Canon PRO Series printer ships with software and workflow solutions that further enhance productivity and the range of print applications that can be produced.
Print Studio PRO: Offers features that streamline your printing workflow
Media Configuration Tool: Helps manage print settings and media information
Quick Utility Tool Box: Provides quick access to printer management tools
Print Plug-in for Microsoft Office: Print in large format from Microsoft® Office Applications
PosterArtist Lite: Easily create posters from an archive of templates and clip art
Accounting Manager: Tracks ink and media usage and costs
Sub-Ink Tank System – Exclusively on Canon iPF Printers
The Sub-Ink Tank System acts as an internal reservoir for the wide format printer, functioning to remove all of the ink from the replaceable ink tanks for before changing them.
This helps eliminate any wasted ink and decreasing your cost per print. The empty ink tanks can then be replaced on the fly, without stopping the printing and ruining the print.
This sub-ink technology is only found on Canon iPF printers including the new PRO 2100, PRO 4100, and PRO 6100.
Download the Canon PRO Series Brochure