Part three of our multi-part series on the Leica BLK3D handheld Imager focuses on using the device for working with construction plans. To to maximize this functionality, users should certainly look into adding the optional Mobile Sketch and Document Software.
This upgrade opens up a whole new world of possibilities with the BLK3D. Users can import plans, sketch floor plans, create smart rooms, take point-to-point measurements, and even measure facades. Once you use it, this will become one of your favorite things about the BLK3D.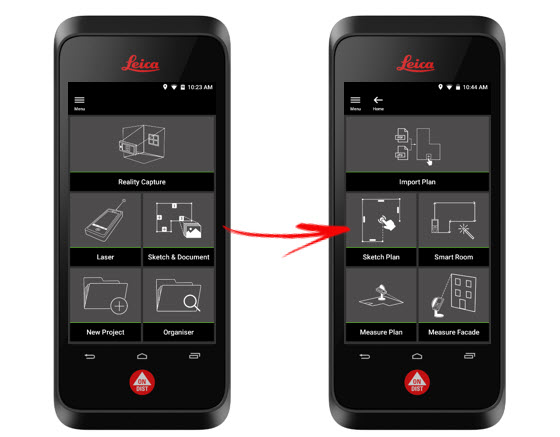 Learn more about the Leica BLK3D Imager
Using Mobile Sketch and Document, you can bring in an existing plan as a background for your measurements. This is done very easily and accommodates JPG files, PDFs, for you can simply snap a picture with the internal camera.
Import a Plan Features:
Add 3D Images to the plan
Draw and measure lines and areas
Add Texts and Markers
Export in JPG and PDF format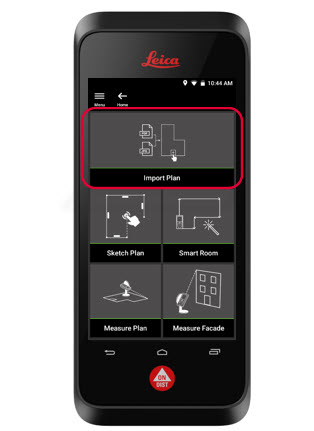 Launch the Sketch and Document to import a plan. 
First, select a plan source - You can get one from the camera or image gallery. A great workflow solution is to connect with the optional Desktop Base software and simply transfer plans you need into the BLK3D.
Once the file imported, you can quickly adjust the orientation in the display.
Sketch a Floorplan on the BLK3D
Sometimes, you don't have a digital plan file available. No worries, you can simply sketch it out on the display of the BLK3D Imager.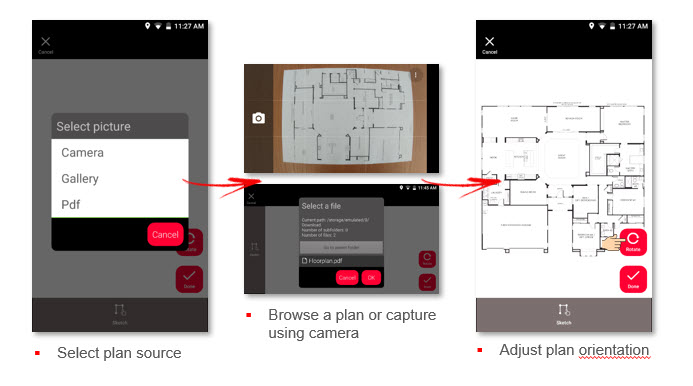 Once the basic floor plan is sketched, you can then use the integrated laser measuring tool to take exact measurements of each surface. Or, if the exact dimensions are known, you can easily enter the values manually.
One the distances are recorded, the BLK3D will automatically determine the square footage.
Features of Sketch Plan function:
Automatic snapping
Auto-scale
Add doors, windows and wall openings
3D view
Add 3D images to the sketch
Export in jpg, pdf and CAD format (2D/3D)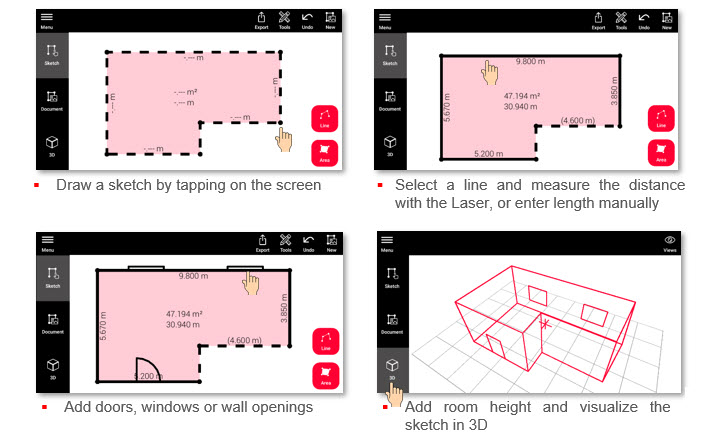 Smart Room Functionality
Don't feel like sketching the drawing? No problem. Smart Room automatically creates scaled floorplans by measuring single distances and automatically compiling them. After that, you can assign the room height to the floorplan and transform it into a 3D model.
Features of Smart Room:
Generate a 3D view
Add doors, windows and wall openings
Add 3D images to the sketch
Export in jpg, pdf and CAD format (2D/3D)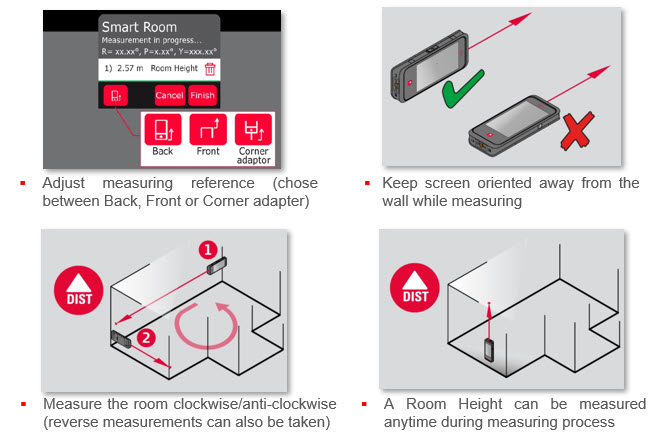 Create a room plan with Smart Room
The application guides you through the entire process. All measured values are displayed on the screen for easy reference. Plus, ups to 20 measurements can be added to a floorplan, so there is lots of flexibility. Then add a height value and you can instantly visualize and navigate your floorplan in 3D.
TAVCO Tip: only 2 measurements are needed to create the floorplan of a rectangular room!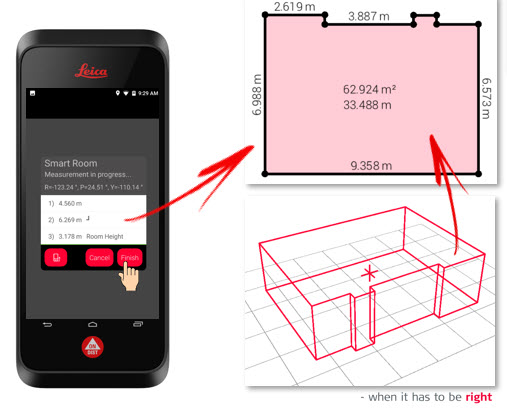 P2P - Point-to-Point Measurements
When you need to measure large objects or irregular shapes, sometimes point-to-point (P2P) measurements are best. This technology uses laser points to establish measurement planes to shoot measurement from two or more points.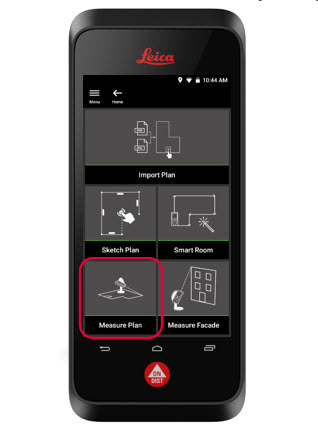 It is important to note that the P2P function for the Leica BLK3D Imager is ONLY possible with the optional Leica DST 360 adapter (purchased separately).
P2P Measurement Features:
3D view
Add doors, windows and wall openings
Add 3D images to the sketch
Export in jpg, pdf and CAD format (2D/3D/raw)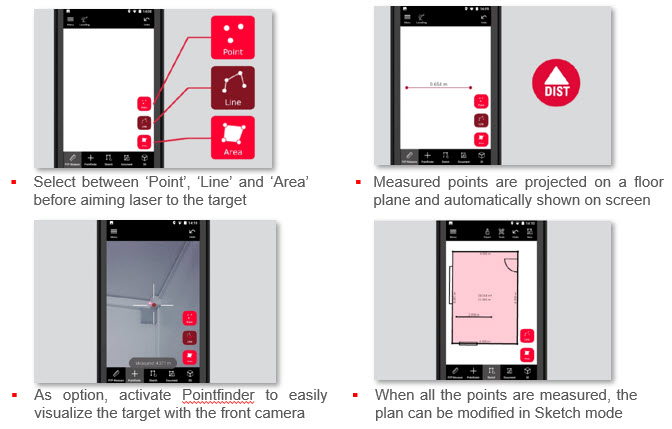 Measure a Facade with P2P Measurement
An added feature of the integrated P2P technology is the ability to establish a vertical plane for measuring distances and areas of a building facade. Like other P2P measurements, this is only possible with the use of the Leica DST 360 adapter.
Features:
Add 3D images to the sketch
Export in jpg, pdf and CAD format (2D/raw)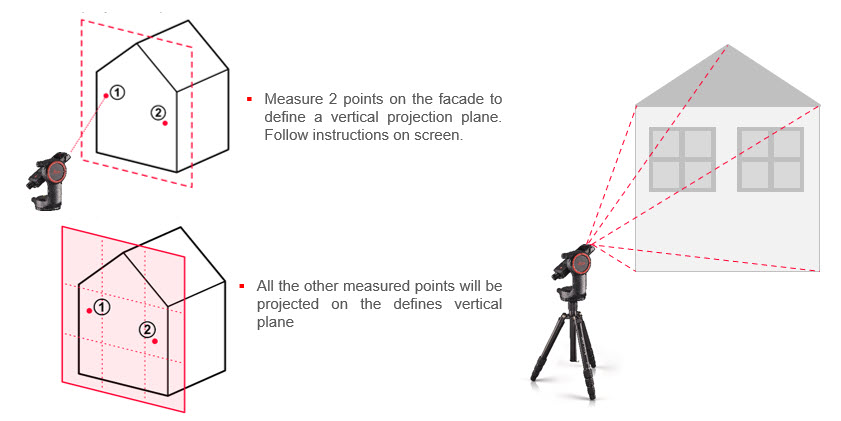 Obviously, adding a subscription to Mobile Sketch and Document greatly enhances the dynamic potential of the already awesome Leica BLK3D. It enables users to import PDF plans or simply sketch them on the touchscreen display.
Then measurements can be verified via the on board laser distance measuring tool. Large surfaces and building facades are child's play for the BLK3D when paired with a DST 360 tripod adapter.
If you are making the investment into a Leica BLK3D handheld device for reality capture, do yourself the favor and get the Mobile Sketch and Document upgrade. At $119 per year, it is a very minimal investment that pays huge dividends for your job site workflow.
Related Articles
Part 1: How to Perform Reality Capture on a Leica BLK3D
Part 2: How to Laser Measure with a Leica BLK3D