Construction documents are full of data, today more than ever. Often contractors or other project partners need to quickly search a set of plans to identify specific, important information.
Unfortunately, manually reviewing a set of printed plans is laborious, tedious, and invites mistakes. Luckily, there is a faster and more accurate way - the Search Tool in Blubeam Revu. For those who use it, Bluebeam's Search Tool is a game-changer for working with construction PDF files.
Enable the Search Tool
Once in Bluebeam, ensure that the Search Tool is accessible. In Revu 2018, simply right click on the left-side toolbar to open a Menu. Under the show command, you can toggle on/off the features that you wish to display. Be sure that the Search Tool is enabled.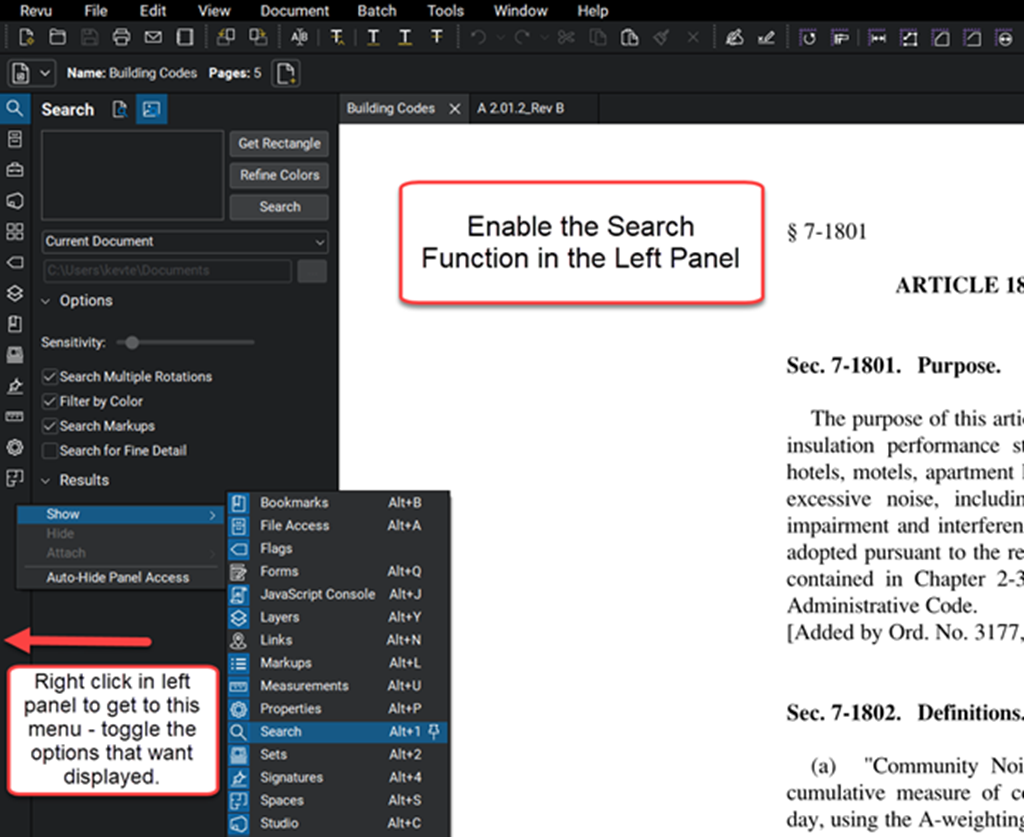 Download a 30-Day free trial of Bluebeam Revu
With a document open, and the Search Tool selected, you will see two different icons for Search Methods. The first is Text Search and the other is Visual Search. Both are extremely handy in relation to construction plans. Text search will allow to find character strings, while visual search will use the internal OCR engine to identify selected shapes and objects.
Bluebeam's Search Tool is a game-changer for working with construction plans.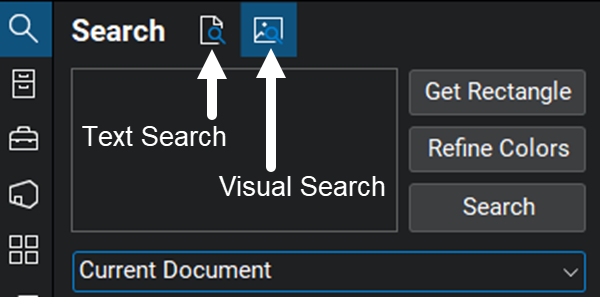 Text Search
For example, consider searching for the term CNEL (Community Noise Equivalent Level) within a document referencing California Building Codes. Once the search term is entered, simply click Search and Bluebeam will do the rest.
The search results display on the lower left-hand side of the screen. From here you can select all (or individual items) and perform further actions.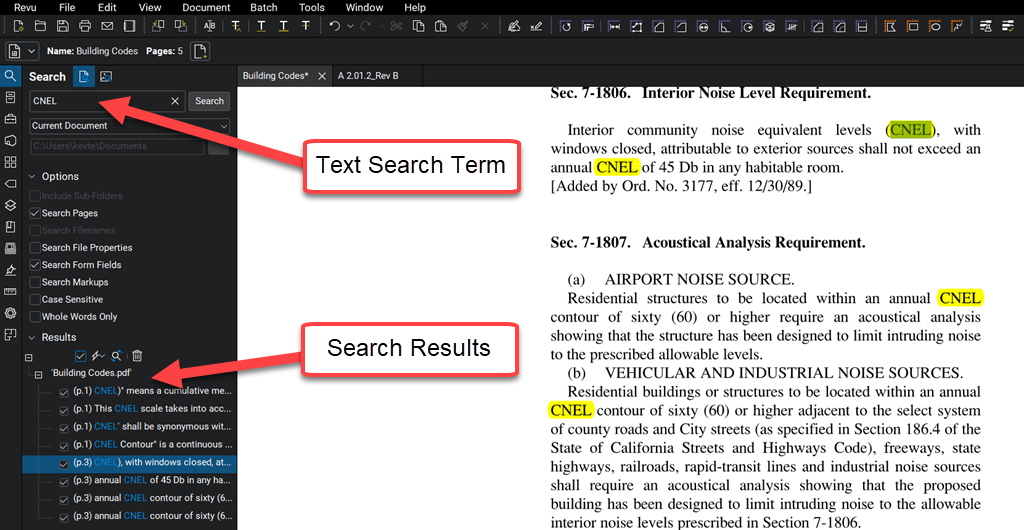 With the search results selected, the Check Options icon will present a menu for further actions including highlight, redaction (eXtreme version only), and other text options. Any of these functions can be applied in bulk with a single click.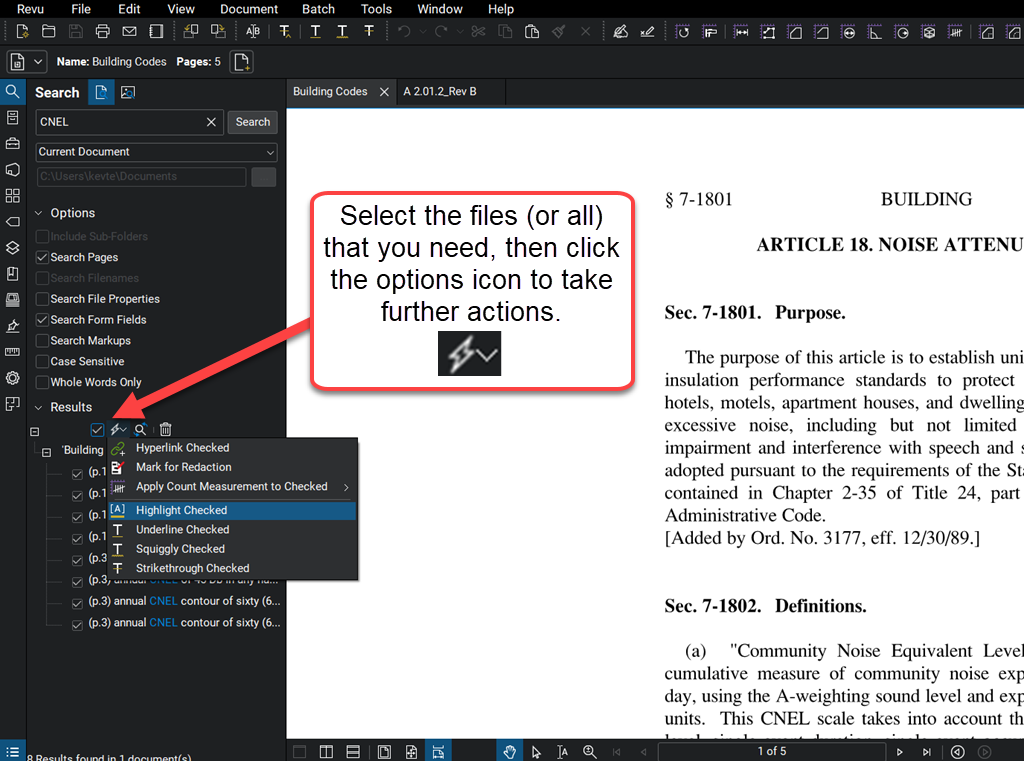 Find and Count the Sinks in Bluebeam Revu
In this example, consider a drawing of a hotel with many rooms and your job is to count the number of sinks in order to provide a bid for this project. You could print out this sheet and conduct a very traditional manual takeoff, but it can be very time consuming. Instead, rely on the power of Bluebeam's Visual Search tool.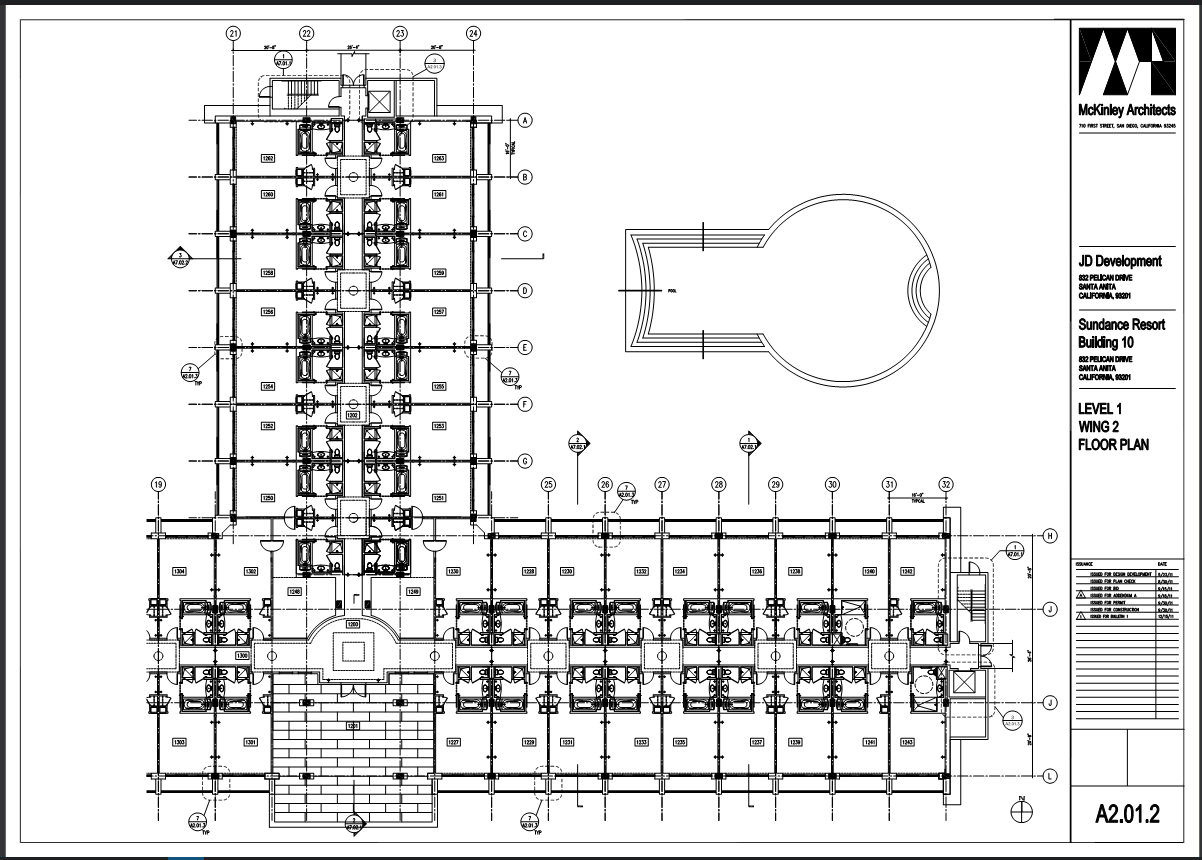 In the Search Tool, select the icon for Visual Search. Then, choose Get Rectangle to draw a box around the option that you want to search for in the drawing. In this case, click and drag a rectangle around a sink on the sheet. Once complete, click Search.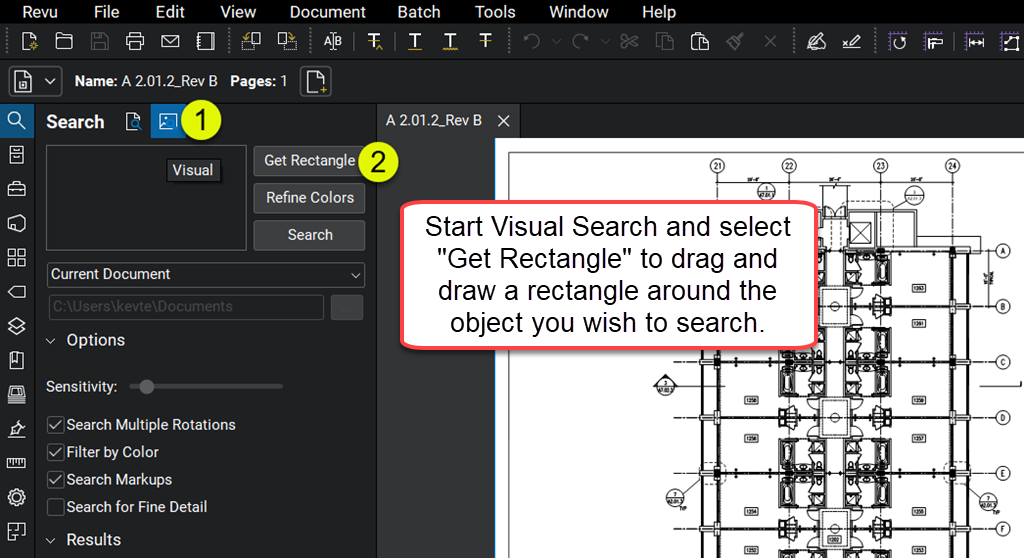 Once the Visual Search is complete, the results are displayed in the lower-left, just as with a Text Search. Likewise, you can select the Check Options icon for a menu of further actions. Like with text, these results can be highlighted or hyperlinked. But, another very powerful function is the Count Measurement tool.
By applying a count measurement, Bluebeam will auto-calculate the number of items and keep of record of that information in the Markups List. Here the data can be tracked, sorted, and manipulated to meet your needs. Custom columns can be created to apply cost metrics to items in the Markups List and reports you can run reports directly from this panel.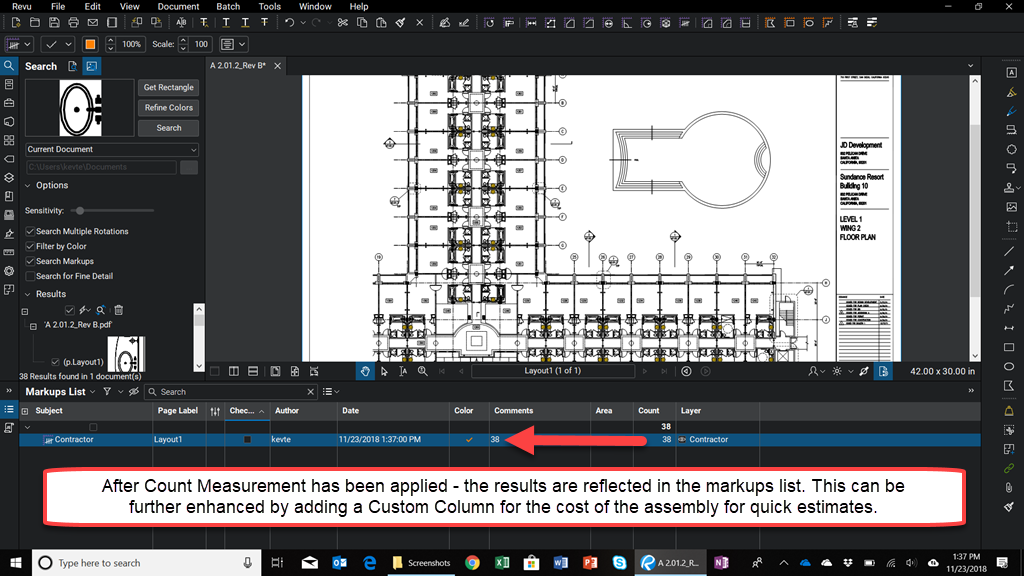 If the Visual Search results are not optimal, you may need to adjust the sensitivity of the OCR profile to best match your situation. This is easily performed by adjusting the sensitivity slider under options.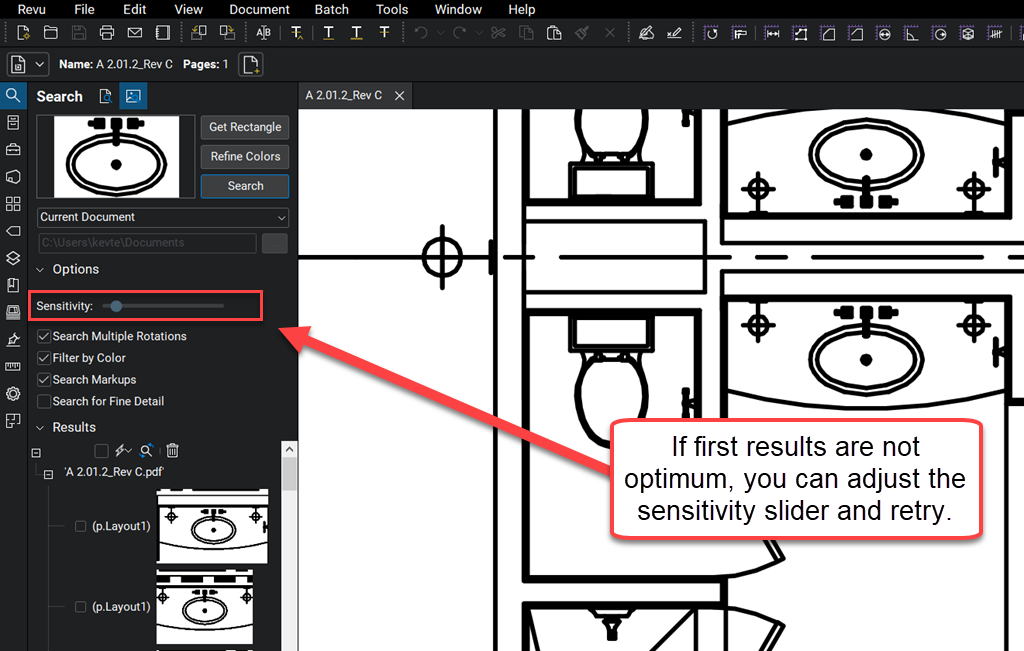 Takeaway
Bluebeam Revu is a powerful PDF workflow software for anyone who works with technical files. This includes professionals in construction, architecture, engineering, and other technical fields. Of all of the on board tools available in Revu, the Search function is one of the most highly regarded as it provides an incredibly powerful way to quickly find data in large sets of construction plans.
Learn more about the power of Bluebeam Revu Software in our Definitive Guide.