Contact a Canon Graphics Plotters Specialist
It has been interesting to watch how wide-format printing trends have changed and evolved over the past few years.
For starters, CAD and general-purpose printing volumes have dropped as companies continue to incorporate more digital and paperless processes.
Despite the printing decline in the architectural, engineering, and construction space, other market segments have exploded. One of the highest areas of growth has been in the graphics and photography arena.
This is partially due to companies of all types stepping up their marketing efforts with more display graphic material.
Canon, one of the most innovative companies in the world, has done a wonderful job addressing this new demand by investing a substantial amount of R&D resources into their PRO Series family of large format printers.
This includes both the Canon PRO Series 8-color and 11-color aqueous printing platforms. Both promise to be the new standard when it comes to producing graphics and posters, delivering companies massive advantages of graphics plotters.
More Rolls is Definitely Better
The new PRO Series (11-color models with Chroma Optimizer) is available in two versions—either a single-roll printer or as a Multifunction Roll System (MFR).
Upgrading to a second roll is easy with the modular RU-41 (44-inch) and RU-21 (24-inch) 2nd roll assembly. 
The advantage of having the second roll is that is can either be used as a second media source or it can be configured as a bi-directional take-up unit.
This is handy when printing long prints or a continuous nested set. The take-up roll will receive the prints and keep them from hitting the floor.
Note: The 8-color PRO S-Series models are only available in a two roll configuration, currently.
"Ultimately, all these new advancements lead the way for Canon PRO Series Graphics Plotters to completely exceed your expectations."
WiFi Connected
Wireless connectivity is quickly becoming a necessity in the modern office environment. Canon answered this call with the new PRO Series; integrated WIFI adapters are now standard on all PRO Series graphics plotters.
This provides a way to locate printers in more spaces than ever. Today, office real estate is a premium. Having the flexibility to place large format printers just about anywhere is a huge advantage.
Note: although having the ability to connect wireless offers some advantages, the best practice is still believed to use a wired ethernet connection.A hardwire connection will help ensure the best quality data transfer, especially in the case of printing large and complex files.
New Print Head Design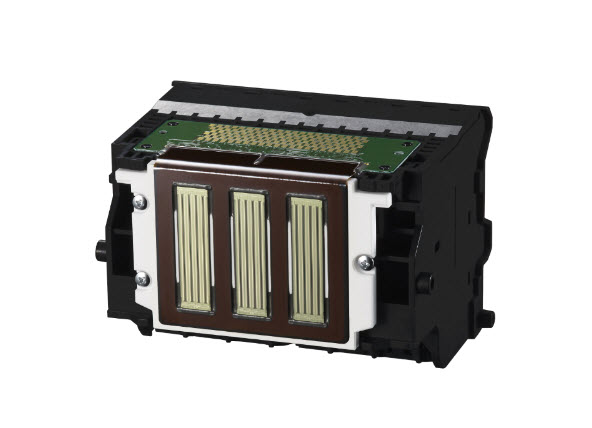 When it comes to inkjet printing, the technology in the print head is where the rubber meets the road. After all, the print head is the component that jets the tiny droplets of ink onto the paper.
So, without a good print head platform, all other specs do not matter. Canon put a lot of thought and ingenuity into the new PRO Series print head, and this is not a subtle change.
First of all, the new PRO Series only uses one print head. In contrast, all previous Canon graphics printers have used a two print head configuration. That was because each of the older print heads could only handle six ink channels each.
Now, the upgraded Canon PF-10 print head controls all twelve ink channels. This change, in conjunction with a 1.28-inch swath path results in much higher print speed and a lower overall cost of operation.
Improved anti-clogging technology means that ink output is consistent and precisely checked. If a clog is detected, another nozzle automatically provides a backup. Along with preventing wasted prints due to ink clogging, this also helps reduce the frequency of nozzle cleaning required.
Also, all PRO Series printers include a built-in multi-sensor to help ensure color-consistency, not only from one print to the next, but from one PRO Series device to another. This is a huge benefit for installations that are running multiple machines.
LUCIA PRO Ink

As mentioned earlier, the new ink set is minus the Green ink. This is because green is the easiest color to reproduce. So, the new ink format is 11-colors, plus the Chroma Optimizer.
The new LUCIA PRO ink system uses microencapsulated pigment ink to produce an incredibly wide color gamut. These solid particles are very durable and resilient and do not break down due to environmental conditions.
Pigments will not fade and are mostly water resistant. Also, the Blue and Magenta inks have been reformulated to render brilliant colors, while the Black inks have been improved to capture the finest details in the dark areas your print.
Chroma Optimizer
Previous Canon Graphic and Fine Art printers utilized a 12-color LUCIA EX ink set. What has changed with the PRO Series is that the Green Ink has been removed and replaced with the Chroma Optimizer. Essentially, this is "clear coat" that provides improved gloss uniformity for superb image quality.
One thing you will notice about the Chroma Optimizer is that is applied to the "white" areas of the image. This may not sound like much, but it is huge.
If you have tried to print a photo or a poster with some white areas in the background, the white space was simply the background color of the unprinted paper. At times, this did not contrast well with the printed image. Sometimes the final print would appear unfinished.
When the Chroma Optimizer is applied to the white spaces, the results are amazing! In addition to adding overall uniformity, it also protects against bronzing.
USB Direct Print
Now you can plus a USB flash drive directly into the printer and send PDF or JPEG files right from the interface. Simply plug the thumb drive into the internal port, preview the image on the operation panel, and print. It doesn't get any easier than that.
The PRO Series Links Directly to a CANON EOS Camera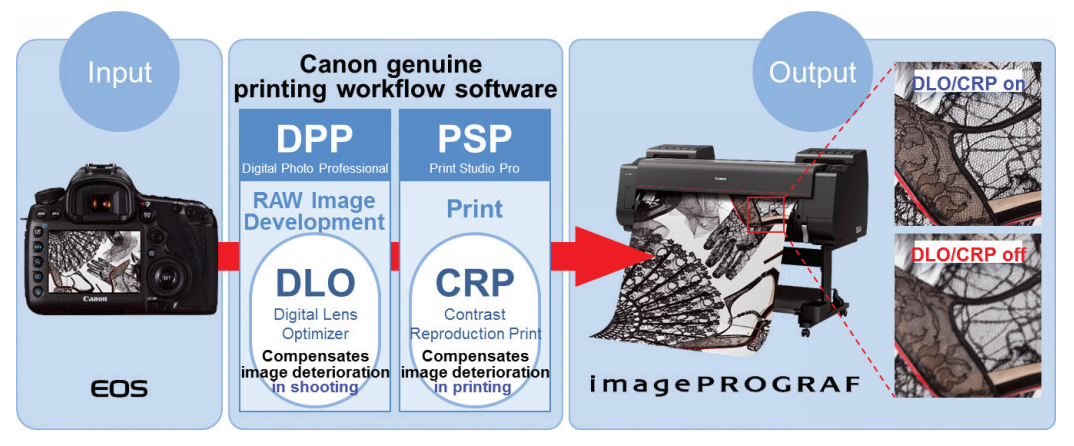 Photographers and digital professionals of all types are rejoicing over the fact that you can know directly link a digital camera directly to both the PRO 2000 and PRO 4000 printers.
This new process is called Crystal-Fidelity and it ensures that the original structure, clarity, and texture of the original photos are maintained and printed with the highest level of accuracy and efficiency.
At this time, Canon is the only company offering this functionality. Neither Epson nor HP have the ability to link directly with a digital camera.
Built-in Color Density Sensor and Color Calibration System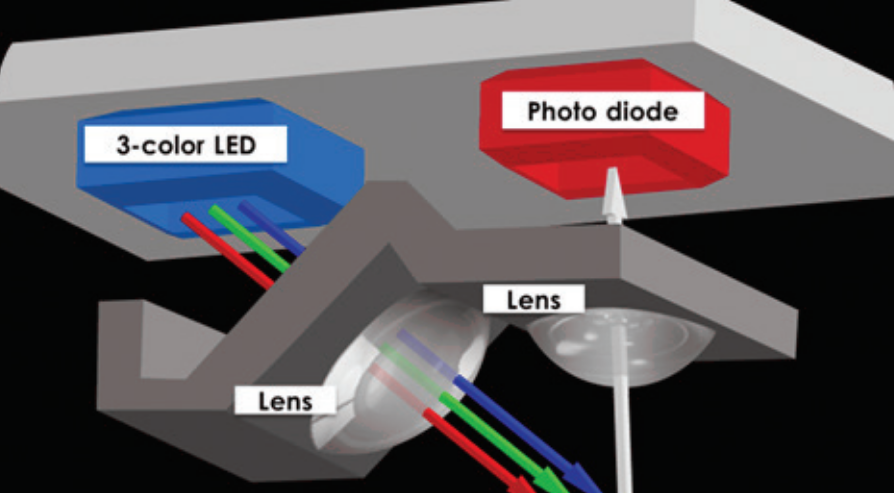 Automatic color calibration is the coolest feature on the Canon PRO Series that nobody is talking about. 
Color output is optimized by Canon's built-in Color Density Sensor and calibration system. This capability is extremely important to professional photographers and graphic artists because it means that these printers can reproduce colors reliably and consistently, over time.
Canon's Color-Calibration System is simpler and easier to use than competing systems.
With Canon's Color Density Sensor, a calibration for one media type is used to adjust on the other Canon supported media—unlike Epson and HP, which both require the need for a spectrophotometer, and repeat calibrations for each type of media or print mode.
Color calibration on the Canon is fast---it can be done in just 10 minutes. Plus, Epson and HP don't have it. 
Innovative and Dynamic Media Handling
Canon's refined media loading system enables a roll of media to be loaded into the printer with directly touching the media with your hands.
This is extremely useful for glossy papers that are prone to show fingerprints and smudges. Simply set the media in the roll holder and lightly rotate the flange to initiate the leading edge of the media to be automatically fed into the assembly.
Additionally, the optional Multi-Function Roll (MFR) System can also be used as either a second media rolls or it can be configured as a bi-directional take-up unit.
Fleet-Wide Printer Management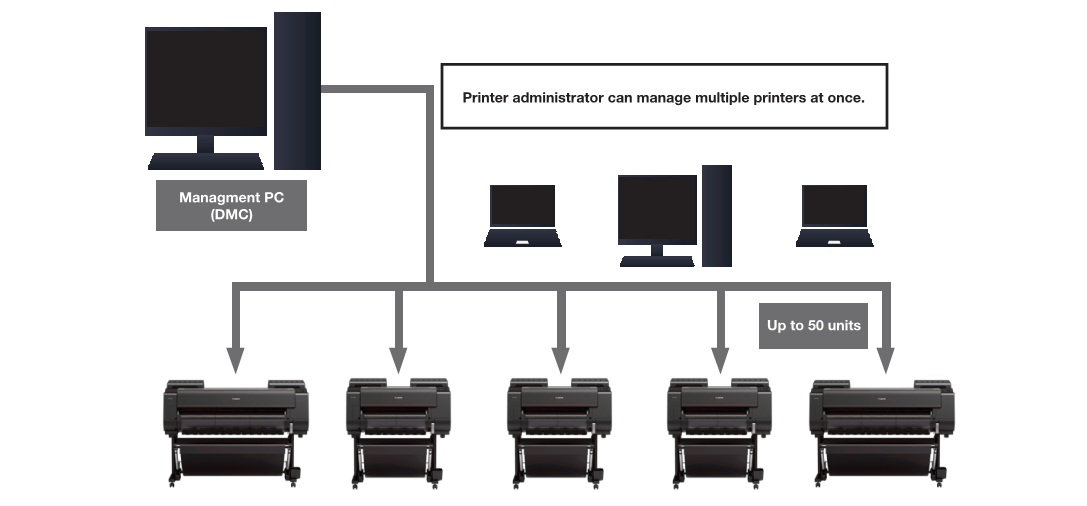 Canon offers the ability to control color calibration and printer management for an entire fleet of imagePROGRAF printers in an Enterprise environment.
Device Management Console (DMC) enables users to monitor, control, and calibrate printers from one location.
Software and Workflow Solutions Included
Every Canon PRO Series printer ship with software and workflow solutions that further enhance productivity and the range of print applications that can be produced.
Media Configuration Tool: Helps manage print settings and media information
Quick Utility Tool Box: Provides quick access to printer management tools
Print Plug-in for Microsoft Office: Print in large format from Microsoft® Office
PosterArtist Lite: Easily create posters from an archive of templates and clip art
Accounting Manager: Tracks ink and media usage and costs
Sub-Ink Tank System – Exclusively on Canon iPF Printers
Image source: trace-ability.blogspot.com
The Sub-Ink Tank System acts as an internal reservoir for the printer, functioning to remove all of the ink from the replaceable ink tanks for before changing them.
This helps eliminate any wasted ink and decreasing your cost per print. The empty ink tanks can then be replaced on the fly, without stopping the printing and ruining the print.
This sub-ink technology is only found on Canon iPF printers including the new PRO 2000 and PRO 4000.
PRO Series Photo Printers Professional - Takeaways
Ultimately, there is a lot to love with the new Canon PRO Series printers. Plenty of innovation and new technologies have been packed into the PRO Series, including direct links to digital cameras, reformulated LUCIA PRO inks and a new print head design.
Plus, built-in color calibration makes profiling a breeze. Also, the unique Multi-Function Roll Unit and included software solutions help the PRO Series stand out in a competitive field.
Ultimately, all these new advancements lead the way for the PRO Series Photo Printers Canon to completely exceed your expectations. Learn more in the Definitive Guide to Canon Plotter Printers.
Ready to look at the Canon PRO Series?
Explore the full line of Canon Color Plotters