Plotters are essentially just large printers. The term plotter originates from the architectural world where "pen plotters" used to plot lines on a sheet of paper that would scroll back and forth. They were fascinating to watch.
Today, however, the term 'plotter' can be used for just about any printer that is typically 24-inches or wider. They are used to print everything from CAD files, to creating professional looking graphics, logos, and other designs. They're also great for printing photos, maps, and other items that require precise detail.
[Get a price quote on a new plotter printer]
Which Type Should You Choose?
When it comes to Canon plotters, there are several different plotter printer models available today. Each model brings its own unique strength. To help you choose the right one for your needs, we've put together a list of the top five Canon plotter models available today.
Canon TM Series
The TM Series is a good starting point for small businesses who are looking to acquire a wide format device. It relatively small in comparison to other competitor models, easy to use and capable of producing some pretty amazing things.
The TM-300 or TM-305 inkjet roll printer is not only ideal for printing technical documents, CAD drawings and GIS maps, but also posters, signage and displays. One of the new advancements of this series of printers is the incorporation of Canon's LUCIA TD water resistant pigment ink.
 Canon TX Series
When more performance is required, especially in professional workgroup settings, the TX-Series is a great solution. The imagePROGRAF TX-Series Largeformat printers are equipped to satisfy the many diverse needs of architects, engineers, construction, GIS and other professionals.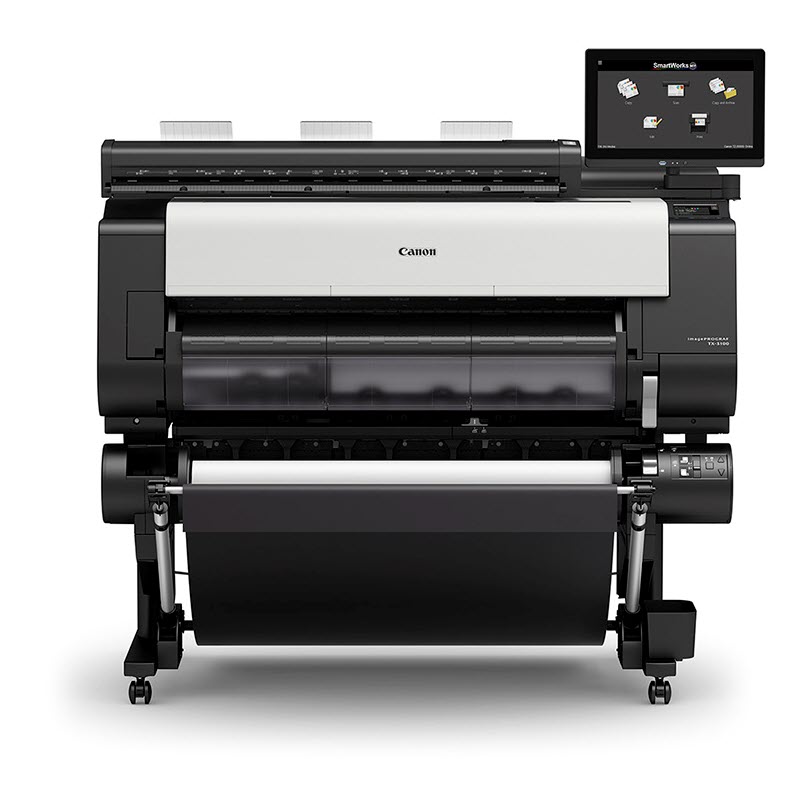 The Canon TX series is fast, printing 3D sized drawings a minute, stacking of up to 100 sheets on a foldable and adjustable front stacker. The TX-3100 and TX-4100 provide automatic roll loading and an optional Multifunction Roll Unit.
 Canon TZ Series
The Canon imagePROGRAF TZ 30000 is one of the newest members of the Canon plotter family. It is specifically engineered to be the fastest imagePROGRAF plotter printer ever. It is designed to be a highly productive engineering printer that can replace both older inkjet and legacy toner-based systems.
The single footprint chassis holds two internal media rolls, the latest generation color scanner, and an attached all-in-one touchscreen PC controller (Win 10). By inkjet standards, the TZ 30000 is very fast. It can produce 4 D-size (24x36) sheets per minute. In other words, the print speed is about 14 seconds per page. Plus, the rugged design allows you to easily print 244 D-size sheets in an hour.
The Canon TZ 30000 also features an integrated Top Output Stacker that can stack up to 100 sheets of bond paper. An onboard advanced air flow separation system also helps reduce paper jams while keeping prints neatly in place.
Canon GP Series
The Canon GP printers are the world's first large format printer with aqueous pigment Fluorescent Pink Ink. Equipped with Canon's unique Radiant Infusion which layers the newly developed Fluorescent Pink Ink with other inks on the paper surface during printing creating bright and soft color reproduction.
The GP Series is ideal for supporting in-house production of large format prints with increased appeal and visibility in various industries such as retail stores, restaurants, government offices, schools, and general companies.
 Canon Pro Series
The Canon 8-color imagePROGRAF PRO S-Series and the 11-color PRO Series printers are designed for printing posters, signs, banners, photos, and fine art. All Canon Pro printers can upgrade to 2-roll printers by adding the MFR 2nd roll assembly.
LUCIA PRO ink set in the 11-color models include a Chroma Optimizer that can be added at will to prints on photo paper to produce more pristine images with no bronzing or metamerism.
Conclusion
Plotter printers are great tools for creating professional looking documents, whether it's for business purposes or personal use. They're also very affordable, so they're perfect for small businesses who need them. Canon provides a wide range of models to choose from for every printing situation – everything from CAD line drawings, to maps, posters, and school banners.
 Complete Guide to Canon Large Format Printers