Architectural design is something that is constantly evolving. One ever-changing aspect, that has completely redefined the design-build process, is BIM software (Building Information Modeling).
This is achieved through a variety of different software applications, all of which promote the absence of paper.
But, there are still plenty of opportunities where companies need to print construction plans - and color is absolutely crucial when printing 3D BIM file format drawings.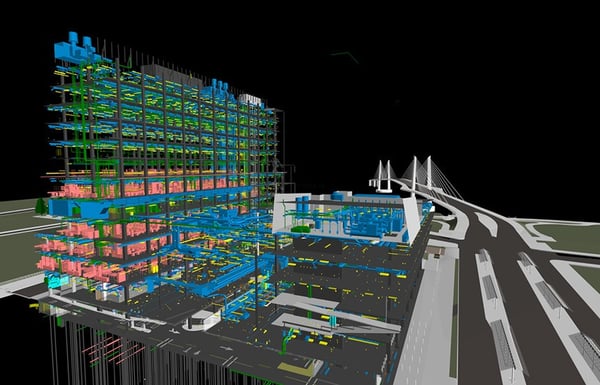 AutoDesk defines BIM as "an intelligent model-based process that provides insight to help you plan, design, construct, and manage buildings and infrastructure."
This collaborative software is now allowing architects, engineers, and contractors to work together in new exciting ways. But, a paradigm shift always forces other changes.
One significant change as a result of BIM is the necessity to print construction plans in full color rather than monochrome.
There are a variety of different applications available for BIM, but the top three are easily recognized: 
AutoCAD - specialized toolsets and get access to industry-specific functionality, greater mobility with the new web and mobile apps, and the latest feature updates. It also includes specialized features & libraries for mechanical design, architecture, 3D mapping, and more while working in a familiar AutoCAD interface. 
Revit - software built for Building Information Modeling (BIM), helping professionals design, build, and maintain higher-quality, more energy-efficient buildings. Revit allows firms to collaborate and make more-informed decisions earlier in the design process to deliver projects more efficiently. 
Sketchup - is an incredibly popular  and easy-to-use 3D modeling and design application. It offers a great mix of our classic desktop software, a new SketchUp for Web modeler, and all sorts of options to publish, share, and store projects in the cloud. 
Printing BIM Files in Color Research
To explore this, Lyra Research, Inc. (Now Photizo Group) conducted a study that focused on inadequate collaboration in the design-build process. They strived to find ways to reduce construction costs and in doing so, they made a remarkable discovery. AEC companies can actually save money if they print BIM files in color.